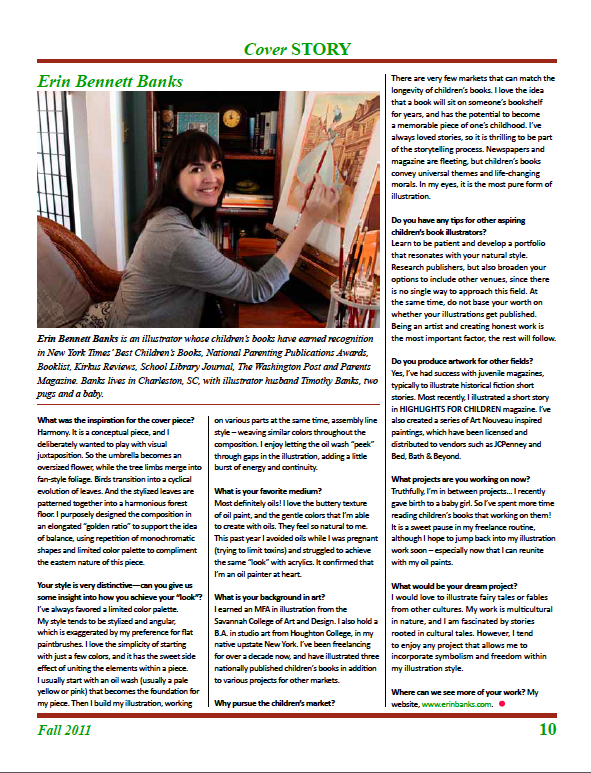 My illustration "Harmony" was recently featured as the cover for Pen & Palette, the quarterly publication of the Society of Children's Book Writers & Illustrators. An interview about my work and process was included in this issue, copied below.
Society of Children's Book Illustrators and Writers (SCBWI)
"Cover Story: Erin Bennett Banks"
Fall 2011
written by Bonnie Adamson
Erin Bennett Banks is an illustrator whose children's books have earned recognition in New York Times' Best Children's Books, National Parenting Publications Awards, Booklist, Kirkus Reviews, School Library Journal, The Washington Post and Parents Magazine. Banks lives in Charleston, SC, with illustrator husband Timothy Banks, two pugs and a baby.
What was the inspiration for the cover piece?
Harmony. It is a conceptual piece, and I deliberately wanted to play with visual juxtaposition. So the umbrella becomes an oversized flower, while the tree limbs merge into fan-style foliage. Birds transition into a cyclical evolution of leaves. And the stylized leaves are patterned together into a harmonious forest floor. I purposely designed the composition in an elongated "golden ratio" to support the idea of balance, using repetition of monochromatic shapes and limited color palette to compliment the eastern nature of this piece.
Your style is very distinctive—can you give us some insight into how you achieve your "look"?
I've always favored a limited color palette. My style tends to be stylized and angular, which is exaggerated by my preference for flat paintbrushes. I love the simplicity of starting with just a few colors, and it has the sweet side effect of uniting the elements within a piece. I usually start with an oil wash (usually a pale yellow or pink) that becomes the foundation for my piece. Then I build my illustration, working on various parts at the same time, assembly line style – weaving similar colors throughout the composition. I enjoy letting the oil wash "peek" through gaps in the illustration, adding a little burst of energy and continuity.
What is your favorite medium?
Most definitely oils! I love the buttery texture of oil paint, and the gentle colors that I'm able to create with oils. They feel so natural to me. This past year I avoided oils while I was pregnant (trying to limit toxins) and struggled to achieve the same "look" with acrylics. It confirmed that I'm an oil painter at heart.
What is your background in art?
I earned an MFA in illustration from the Savannah College of Art and Design. I also hold a B.A. in studio art from Houghton College, in my native upstate New York. I've been freelancing for over a decade now, and have illustrated three nationally published children's books in addition to various projects for other markets.
Why pursue the children's market?
There are very few markets that can match the longevity of children's books. I love the idea that a book will sit on someone's bookshelf for years, and has the potential to become a memorable piece of one's childhood. I've always loved stories, so it is thrilling to be part of the storytelling process. Newspapers and magazine are fleeting, but children's books convey universal themes and life-changing morals. In my eyes, it is the most pure form of illustration.

Do you have any tips for other aspiring
children's book illustrators?
Learn to be patient and develop a portfolio that resonates with your natural style. Research publishers, but also broaden your options to include other venues, since there is no single way to approach this field. At the same time, do not base your worth on whether your illustrations get published. Being an artist and creating honest work is the most important factor, the rest will follow. Do you produce artwork for other fields? Yes, I've had success with juvenile magazines,
typically to illustrate historical fiction short stories. Most recently, I illustrated a short story in Highli ghts for Children magazine. I've also created a series of Art Nouveau inspired paintings, which have been licensed and distributed to vendors such as JCPenney and Bed, Bath & Beyond.

What projects are you working on now?
Truthfully, I'm in between projects… I recently gave birth to a baby girl. So I've spent more time reading children's books that working on them! It is a sweet pause in my freelance routine, although I hope to jump back into my illustration work soon – especially now that I can reunite with my oil paints.

What would be your dream project?
I would love to illustrate fairy tales or fables from other cultures. My work is multicultural in nature, and I am fascinated by stories rooted in cultural tales. However, I tend to enjoy any project that allows me to incorporate symbolism and freedom within my illustration style.

Where can we see more of your work?
My website, www.erinbanks.com.